Mijas Costa is a 12 kilometre coastal stretch of modern (post 1960) tourist orientated development including the popular La Cala de Mijas (Mijas cove), Riviera del Sol and Sitio de Calahonda (a large residential estates) within the municipal district of Mijas.
Mijas Costa is located between Fuengirola and Marbella, being at least 10km away from the village of Mijas and having to pass through Fuengirola to get between one and another leads to some confusion. Tourists who are not intersted in municipal affairs see Mijas Pueblo and the districts of Mijas Costa as different places.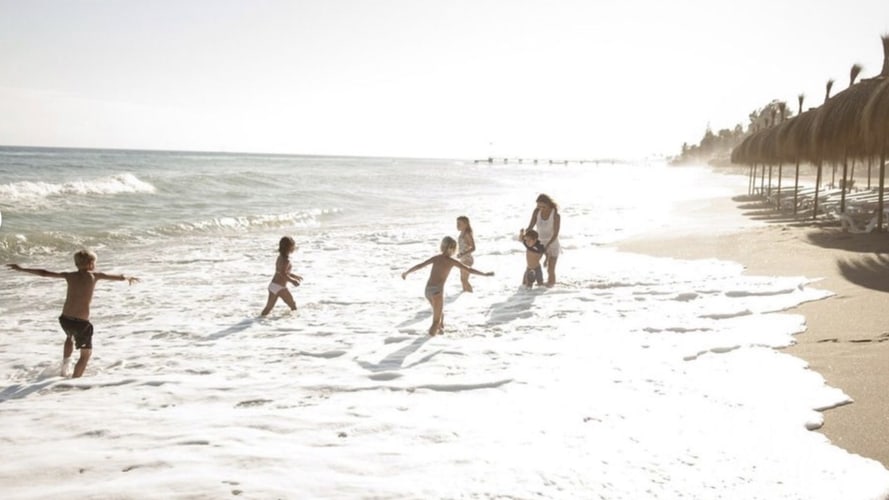 Mijas Costa's various districts are joined together by the A-7 (old N-340) coastal highway. Travelling from west to east and leaving Marbella municipal district just after Cabopino one enters Mijas Costa where coast road is less than 50m back from the seafront. The first macro-communidad (sub district) encountered is the large Sitio de Calahonda. This is followed by Calypso, Riviera del Sol, Miraflores and Torrenueva. Rounding a headland the coast road then by-passes a popular 'seaside resort' area called La Cala de Mijas. Following this the coast road huggs the rocky coastline and on the inland side of the road are the following urbanizaciones (housing estates) Los Claveles, El Chaparral, Los Farolas, El Faro, Calaburras, La Costa, La Ponderosa.
Mijas Costa is the part of the municipality of Mijas which covers the 12 kilometre stretch of coastline joining (from East to West) El Chaparral, La Cala de Mijas, El Combo and Calahonda and takes in the two major urbanizations, Riviera del Sol and Sitio de Calahonda. Although just a twenty minute drive from little village of Mijas which is still steeped in the old Andalucian traditions and customs, the residential and beach life of Mijas Costa is very much 21st century. Holiday rentals available range from small studio apartments for holiday rentals to major villa developments with a sea and mountain view from the private pool. The beach life offers water sports ranging from jet skis, waterskiing, wakeboarding, windsurfing, parapenting and more.
The two large urbanizations, Sitio de Calahonda and Riviera del Sol are catchment areas forming large villages in their own right and have all the amenities such as commercial centres, supermarkets, golf course, sports centres, bars and restaurants for every day living. Many British and other foreign residents live here permanently and in summer, it is also very popular with holidaymakers in hotels and rented properties. Due to the great number of English speaking residents and visitors, it is easy to find English medical centres and most people there can speak English.
RESTAURANTS IN LA CALA
There is no shortage of restaurants in La Cala de Mijas. There are many located on Boulevard de la Cala and others on the seafront around Calle Torrejon where the beach bars have their fans. Others prefer a more formal restaurant. Lookout for Restaurant El Pikoteo, Restaurant El Torrejon, Restaurant El Deseo, Restaurant el Jinete, The Terrace and Centro de Mayores, economically priced, and a more Spanish speaking experience.